January 2023
Accessibility Support for User Management and Meetings List Page
Accessibility features in software applications are designed to help people with disabilities use technology more effectively. Despite the availability of adaptable models, people with motor disabilities, visual impairments, or suffering from chronic conditions, such as repetitive stress injuries, often find it impossible to use a mouse.
Using the keyboard, such users can now use the user management feature and view the meetings list pages in Jifflenow's eEvent and eCampaign products. Examples include: moving forward using the tab key and backward using the shift+tab key; selecting a template, checkbox, or record using the space bar key.
The functionalities that can use the keyboard to navigate are as follows:
User Management
The Meeting managers use this feature to add individual users or bulk upload internal users and external attendees. The keyboard shortcuts enable them to manage user profiles and event access and take actions like reinviting, adding to events, and filling consent.
Meetings List Page
The Meetings List Page is the most frequently used feature by all internal users to see and manage their meetings. The keyboard shortcuts enable users to navigate the meeting filters at the left side of the screen to quickly find the meeting record(s) and take actions like editing, approving, or checking-in meetings.
February 2023
Self-Create Event or Campaign Instances
Jifflenow products, eEvent enables Event Marketing Managers to automate meeting scheduling and sessions at events, while eCampaign enables Demand Generation Managers to automate registration for multiple webinars and meeting request processing for digital campaigns all year.

To effectively manage, schedule, and report B2B meetings or sessions in eEvent and eCampaign software, the process starts with creating an event or campaign instance.

With this update, we have made the instance creation process intuitive and user-friendly. It will help you to self-create, manage and modify event and campaign instances.

We are super excited to announce the first of many capabilities that make Jifflenow eEvent and eCampaign into self-serve products, which are a major ask from our customers. This capability will be rolled out for each customer along with necessary training. Your customer success manager will contact you to find time to set it up.
Let's take a quick look at how we made creating an instance a self-serve feature.
There are two ways to create a new instance:
Use a blank option. This option creates all the meeting types and related settings using eEvent defaults.
Use a past event or campaign to replicate the engagement types, notifications, and forms to create a new instance.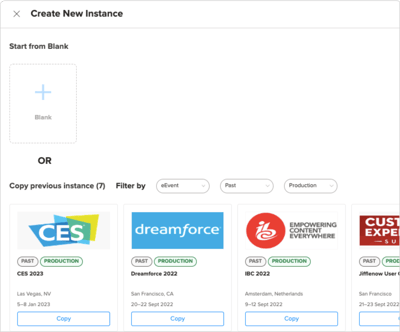 Complete the instance configuration by adding new details, like instance name, dates, location, etc., and test in a "staging" environment before going "live."
Self-Configure and Manage Engagement Types
B2B engagements help organizations achieve desired outcomes. Jifflenow products eEvent and eCampaign can now enable Meeting Managers(MM) to create and manage different types of meetings and sessions to optimize engagements with external participants.
Configure an engagement type by editing details like location settings, participants, options, approval process, topic options, surveys, and advanced settings like video conferencing details, book meeting instructions, reasons to cancel and decline the meeting, notifications, and privileges.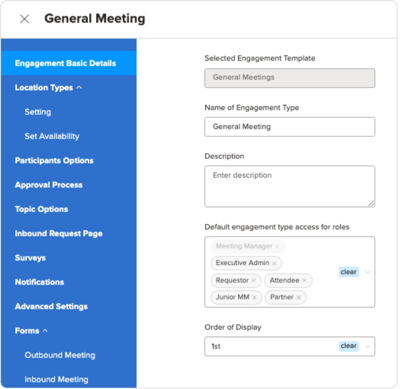 March 2023
Self-Configure and Edit Notifications
Notifications in eEvent, and eCampaign software keep all users informed of updates related to meetings and session scheduling and changes. This update allows an MM to self-configure and self-edit meeting and session notifications. While configuring engagement types for an event or campaign instance, meeting managers can now control the email notifications and ICS invites sent to the recipients.
Selecting defaults instead of the Meeting Room Names option can be used to set and customize the default Meeting Room and location name instead of showing the actual meeting location. MMs can also customize fields like Subject, Meeting Location, and Description of the notification email.
The software provides sub-fields to be included in the body of the notification email. They include meeting with, when, who, meeting location or viode conferencing and confidentiality information.
MMs can preview the template, and send a sample email to verify the edits. The default version can be used to rest the template at any time.
To make Jifflenow products intuitive and user-friendly, we have now enabled the self-configuration of the following form types:
Outbound Meeting Form is used by an internal organization member to schedule meetings with internal or external attendees. By default, the form will include a "Meeting With" field, which is mandatory and cannot be changed or hidden. Other fields can be added, removed, or made as required based on your needs.
Inbound Meeting Form helps external people request meetings with your organization's stakeholders or subject matter experts. The Topic of Interest and Additional Information can included by default in this form. Other fields can be customized, added, deleted, or hidden based on the need.
Survey Form is used to get feedback from the meeting or session attendees. By default, Feedback/Comments will be in the form element.
Tools are included to Self-Configure the Forms:
Form Element - To select the type of field which needs to be added to a form. They are Textbox, Numbers, Textarea, Dropdown, Multiselect, Section break, Header, Date, Time, and Checkbox.
Element Properties - This tool customizes the element added to a form. It customizes the Field Label, Field Placeholder, Help text, and Predefined Value.
Options - Hide or unhide a field element using options. Also, mark a Field as mandatory, read-only, and include it in the standard report.
Updated